Programme
The Summit programme is based on invited presentations of internationally recognized experts representing top class industry and academia equally and worldwide.
The program revolves around five themes:
1. The Green and Digital Transformation
Europe is facing two grand challenges today, the green transition and the digital transition. These might seem like two distinct issues, but really, they are twin challenges: neither can succeed without the other. In an ideal world the green and digital transitions reinforce each other. However, there are a multitude of technical and market-based barriers. In this twin transition, artificial intelligence and digitalisation support the achievement of sustainable development goals in many ways, by promoting energy efficiency, productive efficiency and productivity, operational sustainability, recyclability, traceability of materials, and so on. This session will discuss on the visions and technologies that will allow us to benefit from the twin transition.
Digital Twins

6G, Edge AI

AI Test and Experiment Facilities (TEFs)

High Performance Computing resources

Platform economy
2. Circular Economy as a Driver for Servitisation
Circularity is an essential part of a wider transformation of industry towards climate-neutrality. It can deliver substantial resource savings throughout value chains and production processes, generate additional value and unlock economic opportunities. Within the circular economy, the new business and operations models have emerged. These models complement the traditional approach by advancing servitisation and new use models, such as sharing, renting and recycling instead of owning. This session will offer you a broad overview of the business models and technologies in the era of Circular Economy.
Circular economy, circular engineering, the second life of goods

Electrification and Batteries

EU taxonomy & sustainable investments

Logistics solutions?
3. Manufacturing as a Service – Towards Resilient Supply Chains
​Manufacturing-as-a-Service allows companies to manufacture their products without investing in massive infrastructure. The shift to MaaS has become possible as a result of technological advances such as connectivity, standards and protocols, sensor technologies and data spaces to name few. This greater flexibility places new requirements on the supply chains. The growing importance and the vulnerability of global supply chains has fundamentally changed the way the global economy and goods manufacturing are organised. The pandemic and the war disrupted the global supply system. This session will focus on the new business models following the MaaS and their impact to the supply chain resiliency.
Manufacturing as a Service – business models

Post-globalisation -> resiliency & dynamic value chains (Opportunity or Threath)

Supply chain management & resiliency

Distributed manufacturing
4. Future Robotics, Flexible Automation and Autonomous Systems
The number of robots and autonomous systems is slowly increasing factories but, paradoxically, 'automation doesn't automatically help'. The cornerstones that ensures that robotics and automation can increase the productivity lies in process, skills and cultural development as well as in production management systems and software. This track will dive into the latest trends in advanced robotics and autonomous systems technologies and visions for future investments. We will discuss on how combining the management of material and information flows with high-level of autonomous operations can lead to the agile and efficient production.
Advanced Robotics

Human-Robot and Robot-Robot collaboration

Large scale robotics investments

Autonomous machines and intra logistics via AMRs

Manufacturing Test and experiment Facilities (TEFs), Piloting environments

Human centricity, work-life balance, skills and development
5. Safety and Cyber Security in Resilient Societies
Increasing automation and intelligence in manufacturing systems and value chains increases vulnerability. The manufacturing industry has experiences a fast increase in cyber-related unintended incidents as well as highly targeted attacks towards e.g. the control systems used to manage industrial operations. This session will discuss a variety of challenges ranging from trustworthiness of the physical and IT systems inside the factories and company networks, to the targeted attacks originating from the outside world as well as to the vulnerability of the systems due to increased complexity and automation.
Trustworthy AI, AI regulation
Breakthrough AI-enhanced solutions for Manufacturing sector
Future legislation of machine systems robotics and mobile machines
Cyber-security of the highly connected and robotized factories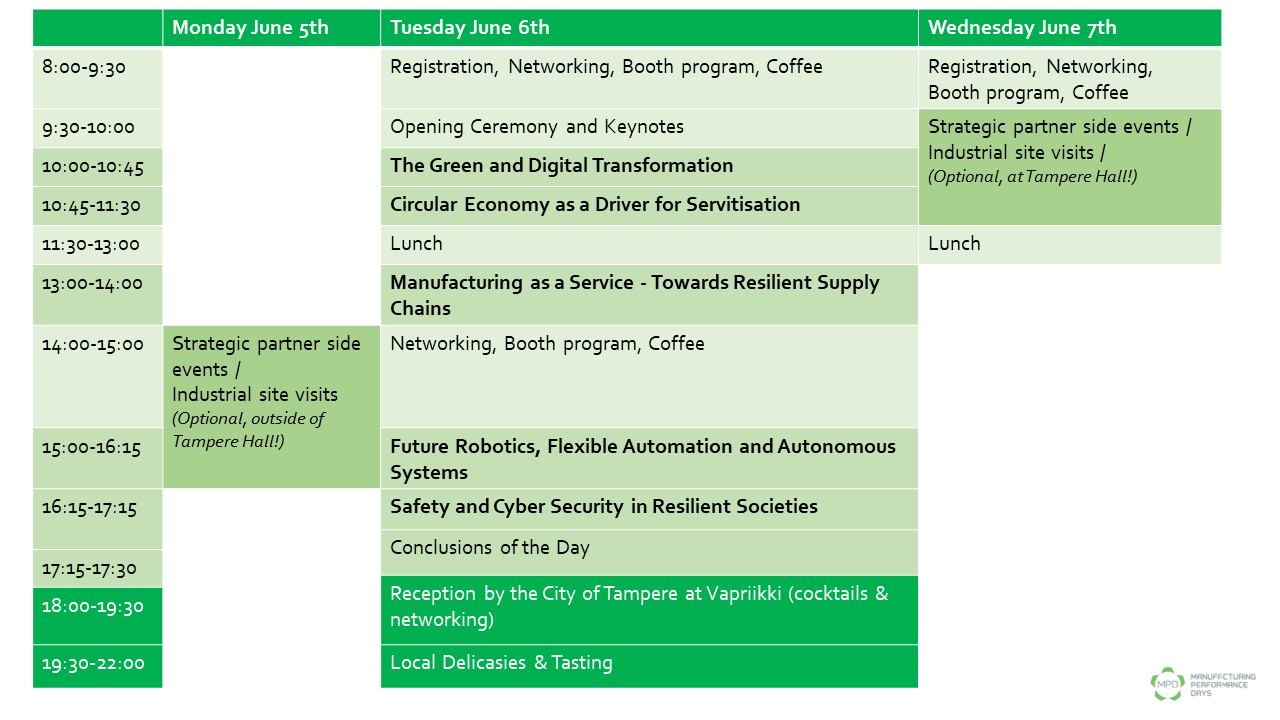 See the whole programme by selecting the day below.